Brief Overview of the Gili Islands
Have you ever wanted to escape the hustle and bustle of everyday life and relax on a tropical island and take a trip to a tropical archipelago? Look no further than the three tiny islands situated off the northwest coast of Lombok, Indonesia: Gili Trawangan, Gili Meno, and Gili Air. The Gilis offer a unique blend of pristine beaches, crystal-clear waters, and laid-back island living that attract visitors from all over the world.
Moreover, these islands are famous for their scuba diving and dive sites, making it a perfect destination for those who love to explore the underwater world.
Each island in the Gili archipelago has its own distinct character – Trawangan is known for its vibrant party scene, Meno for its peaceful tranquility, and Air for its mix of both. But what they all share is an abundance of natural beauty that will leave you in awe during your trip. The Gilis are also home to some of the world's best dive sites, making it a perfect destination for diving enthusiasts. In this comprehensive travel guide to the Gili Islands, you will find plenty of activities and tips to plan and enjoy your stay while exploring the beautiful archipelago.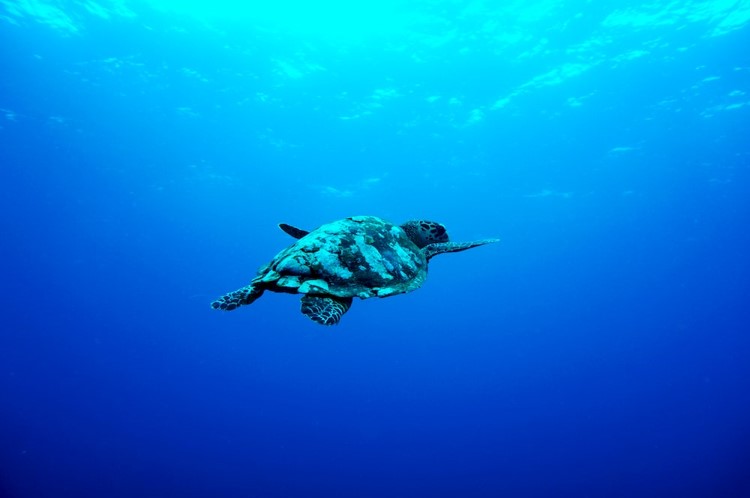 Why They Are a Popular Destination for Tourists
Natural Beauties: Unspoiled beaches, crystal-clear waters, and vibrant marine life
Gili Air is blessed with stunning natural beauties that will leave you in awe. From pristine white sand beaches fringed by swaying palm trees to crystal-clear turquoise waters teeming with colorful marine life, this island paradise offers a serene and picturesque setting for relaxation and exploration. Immerse yourself in the natural wonders of Gili Air and discover the breathtaking beauty that surrounds you.
Activities: Snorkeling, Diving, Paddleboarding, Subwing, Surfing, and more
Gili Air, located in the Gili Islands archipelago, offers a plethora of activities to keep you entertained and make the most of your island getaway. Dive into the crystal-clear waters and explore vibrant coral reefs teeming with marine life through snorkeling or diving adventures. Embark on a paddleboarding or kayaking excursion, gliding across the calm waters and taking in the scenic views. For the thrill-seekers, try your hand at surfing the waves that roll onto Gili Air's shores. Engage in beach clean-up initiatives to contribute to the preservation of the island's pristine environment. If you're feeling adventurous, go spearfishing to catch your own dinner or take a boat trip to explore the neighboring Nusa Islands. With a variety of activities available, there's something for everyone to enjoy on Gili Air.
Bars and Restaurants: Exquisite dining and vibrant nightlife experiences
Gili Air, along with its neighboring Gilis and Nusa Islands, offers a diverse culinary scene with an array of bars and restaurants serving delectable delights. Indulge in fresh seafood dishes, traditional Indonesian cuisine, and international favorites served in beachfront settings or cozy cafes after enjoying thrilling water sports activities. Enjoy tropical cocktails while watching the breathtaking sunsets or unwind with a refreshing drink at one of the beach bars. With its vibrant dining scene, Gili Air ensures that your taste buds are treated to a memorable culinary journey.
Accommodations: A wide range of options including hotels, resorts, and villas
Experience a tranquil and idyllic stay on Gili Air with a range of accommodations to suit every preference. From luxurious villas to cozy guesthouses and bungalows, the island offer a variety of options for a comfortable and memorable stay. Wake up to the sound of waves gently crashing against the shore and soak in the island's peaceful ambiance as you relax in your chosen accommodation surrounded by lush gardens. Explore the stunning coastline by boat and discover hidden coves and beaches.
No Cars/Slow Living: Embracing a peaceful and car-free lifestyle
One of the unique charms of Gili Air is its lack of motorized vehicles. Embrace the slow living lifestyle as you explore the island on foot, by bicycle, or by horse-drawn cart. Immerse yourself in the relaxed atmosphere, where the absence of cars allows you to fully appreciate the serenity and tranquility of the island. Take leisurely strolls along the sandy paths, enjoy uninterrupted sunsets, and savor the simplicity of island life on Gili Air. If you're feeling adventurous, hop on a boat and explore nearby Trawangan Island or relax in a garden oasis on one of the many islands in the area.
Location and Geography
Where the Gili Islands are located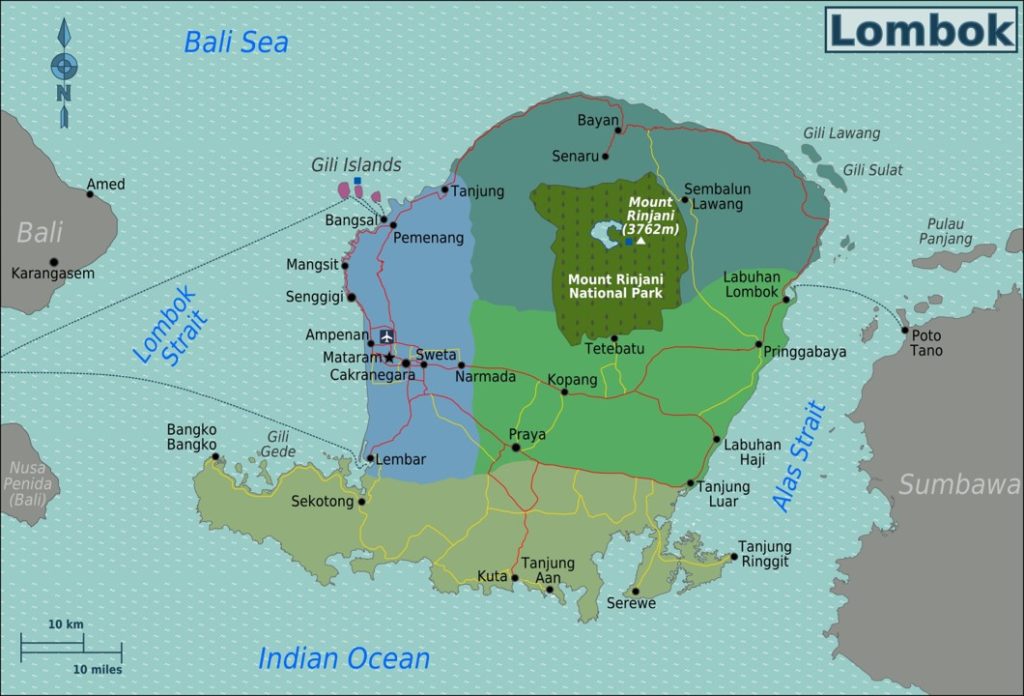 The Gili Islands, also known as gilis, are a group of three small islands situated off the northwest coast of Lombok, Indonesia. These islands, including Trawangan, are part of the Lesser Sunda Islands and lie in the Lombok Strait. The nearest city to Gili Islands is Mataram, which is 35 kilometers away from it. Visitors can enjoy the stunning tropical scenery and dive into the crystal clear waters to explore the underwater world.
The Gili Islands consist of three small islands named Gili Trawangan, Gili Meno, and Gili Air. Each island has its unique charm and attracts a different kind of traveler. Gili Trawangan is the largest island among three with an area of about 3 sq km while Meno is the smallest one with an area around 2 sq km. All three islands combined cover only around 15 square kilometers. Visitors can enjoy the beautiful garden and outdoor swimming pool at some of the accommodations, as well as visit the stunning beaches. Diving is also a popular activity among tourists.
The main reason people visit these tiny little dots on the map, such as Gili Trawangan and Gili Air is for their stunning beaches that offer crystal clear waters, pristine coral reefs, and soft white sand. Each island has its unique landscape – from rugged rocky cliffs to rolling hills covered in lush greenery. On all three islands, there are no motorized vehicles allowed which not only makes them quieter but also provides a sense of calmness that you rarely find elsewhere. If you're planning to visit, make sure to book a hotel with a pool to fully enjoy the island's tranquil atmosphere.
Gili Trawangan offers excellent bike rides around its perimeter which takes roughly about one hour or so to complete- depending on your speed! The eastern side has stunning views overlooking Mount Rinjani (the second highest volcano in Indonesia) while at night; it's a hotspot for party enthusiasts with its lively bars.
Gili Meno, known as "The Honeymoon Island," offers couples the perfect getaway with secluded beaches and crystal-clear waters. For those looking for accommodation, there are a variety of hotels available. If you're feeling adventurous, take a short boat ride to Gili Trawangan for some extra excitement. Don't forget to bring your Indonesian Rupiah (IDR) for all your island adventures!
Gili Air, along with its neighboring islands Gili Trawangan and Gili Meno, offers both tranquillity and adventure. Surrounded by the stunning Mount Rinjani and beautiful beaches, it's an excellent spot for snorkeling and diving. If you're looking for a place to stay, there are plenty of hotels available.
You can find a complete travel guide to Gili Air here, including hotel options and information on neighboring islands like Trawangan. Prices are listed in Indonesian rupiah (IDR) and the guide also covers how to get to the island by land.
Overall, the Gili Islands offer some of the most beautiful landscapes in Indonesia with picturesque beaches and crystal clear waters that will take your breath away. The combination of a laid-back lifestyle, unique culture, and natural beauty make these islands worth visiting. If you're planning to stay longer, there are many hotels available for you to choose from, ranging from budget-friendly to luxurious ones.
Which Gili Island to chose?
| | Gili Trawangan | Gili Air | Gili Meno |
| --- | --- | --- | --- |
| Size | 3 km² | 1.8 km² | 2 km² |
| Population | Approximately 1,500 residents | Around 1,800 inhabitants | Approximately 400 residents |
| Activities | Snorkeling and diving, Nightlife and parties | Yoga retreats, Water sports, Nightlife | Turtle sanctuaries, Romantic beach escapes |
| Best For | Party-goers and adventure seekers | Families and relaxation seekers, couple and honeymooners | Couples and honeymooners |
| Accommodations | Resorts and hotels, Beachfront huts | Homestays, Boutique resorts, Luxury Villas | Boutique resorts, Beachfront bungalows |
Which Gili Island to choose?
Exploring Paradise: The Top 20 Activities on the Gili Islands
With their crystal-clear turquoise waters, pristine beaches, and vibrant marine life, these three islands offer a wealth of experiences for travelers seeking adventure, relaxation, and unforgettable memories. Whether you're a solo traveler, a couple looking for a romantic getaway, or a family in search of a fun-filled vacation, the Gili Islands have something for everyone. Join me as in this travel guide we dive into the top 20 activities that will make your Gili Islands experience truly extraordinary.
Snorkeling: Discovering the underwater wonders of the islands
Dive into the vibrant underwater world teeming with colorful coral reefs, exotic fish, and even sea turtles. Rent snorkeling gear and explore the clear waters at your own pace. It's an incredible opportunity to witness the beauty of marine life up close and personal. As I slipped beneath the surface, I felt like I had entered a hidden paradise on Gili Island.
Diving: Exploring breathtaking dive sites and vibrant coral reefs
Take your underwater adventure to the next level by going scuba diving. With numerous dive sites around the islands, you'll have the chance to discover enchanting underwater landscapes and encounter fascinating marine creatures. As I descended into the depths, surrounded by a kaleidoscope of colors, I couldn't help but feel a sense of awe and wonder. After the dive, relax at a nearby café.
Paddleboarding: Gliding along the calm turquoise waters
Embrace the tranquility of the Gili Islands as you glide across the calm waters on a paddleboard. It's a wonderful way to soak in the island's natural beauty and enjoy a peaceful workout. Standing on the board, feeling the gentle breeze against my face, I found a sense of balance and harmony.
Subwing: Experiencing the thrill of underwater flying
Embark on a thrilling subwing adventure and dive into the depths of the crystal-clear waters. Glide like a dolphin, propelled by the power of the boat, as you twist and turn through the underwater currents. Explore vibrant marine life and colorful coral reefs as you immerse yourself in the beauty of the underwater world. Suitable for beginners and experienced adventurers, subwing offers an adrenaline rush and a whole new perspective on the Gili Islands. With expert guides ensuring your safety, subwing is a must-try activity for those seeking an unforgettable and exhilarating water sport experience.
Surfing: Riding the waves at renowned surf spots
For adrenaline junkies, the Gili Islands offer fantastic surf breaks suitable for all levels of experience. Grab a surfboard and catch a wave at spots like Desert Point, where the long left-hand wave provides an exhilarating ride. As I rode the waves, I felt an incredible rush of energy and a deep connection with the power of the ocean.
Night Life: Enjoying lively bars and entertainment venues
When the sun sets, the Gili Islands come alive with vibrant nightlife. Gili Trawangan, with its cosmopolitan atmosphere, offers a plethora of bars and clubs where you can dance the night away. The neon lights, pulsating music, and energetic crowd create an electric ambiance that is hard to resist. As I joined the festivities, I found myself immersed in a world of excitement and celebration.
Gili Air offers also a vibrant nightlife scene with live music performances happening every day, adding to the lively atmosphere of the island. Whether you're into acoustic, rock, or other genres, you can find bars and venues showcasing talented local and international musicians, creating a vibrant soundtrack to accompany your evenings on this tropical paradise. Dance to the rhythm, mingle with fellow travelers, and create unforgettable memories as you immerse yourself in the lively nightlife of Gili Air.
Sunset Watching: Admiring stunning sunsets over the horizon
Unwind and witness breathtaking sunsets on the Gili Islands. Find a cozy spot on the beach, sip a refreshing cocktail, and watch as the sky transforms into a canvas of vibrant hues. The beauty of nature's artistry left me in awe and reminded me of the simple joys in life.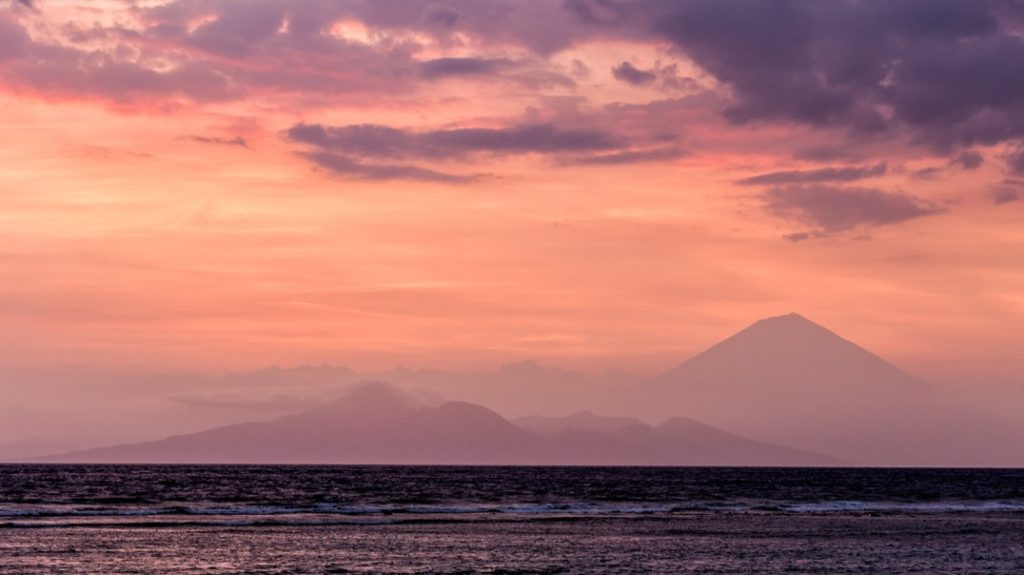 Horse Riding: Galloping along the pristine beaches
Experience the islands from a different perspective as you embark on a horse riding adventure along the shorelines. Feel the rhythmic motion of the horse beneath you as you explore the picturesque landscapes. It's a unique way to connect with nature and create unforgettable memories.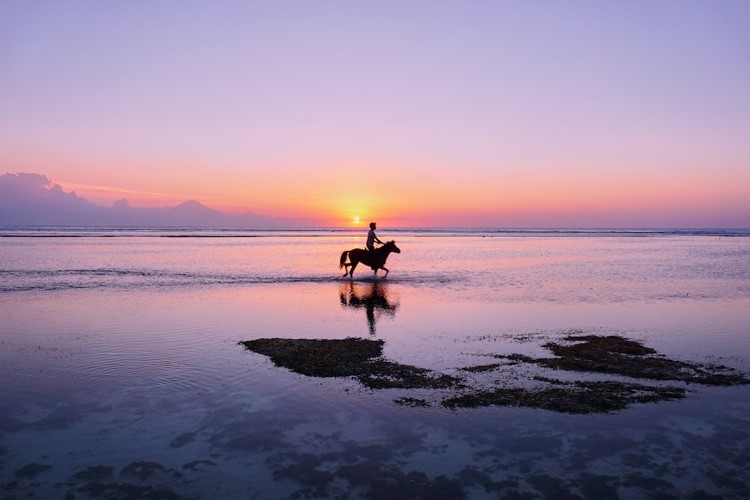 Local Markets: Immersing in the vibrant local culture
Immerse yourself in the local culture by visiting the bustling markets on each of the Gili Islands. Discover handcrafted souvenirs, colorful beachwear, intricate jewelry, and traditional Indonesian artwork. The vibrant atmosphere and friendly vendors make it a delight to explore. As I wandered through the market stalls, I found treasures that would forever remind me of my time on these enchanting islands. Don't forget to bring IDR for your shopping spree!
Shopping: Exploring unique shops and boutiques
Indulge in a shopping spree at the boutiques and souvenir shops scattered across the Gili Islands, where you can find unique products ranging from locally designed clothing and accessories to charming trinkets and keepsakes. With the exchange rate, you can splurge on your favorite items without breaking the bank, as prices are listed in idr. As I strolled through the shops, I couldn't resist picking up mementos that would forever hold a special place in my heart.
Wakeboarding: Enjoying an adrenaline-pumping water sport
Unleash your adventurous spirit and try wakeboarding in the turquoise waters surrounding the islands. Feel the rush of adrenaline as you glide across the surface, performing tricks and jumps. It's an exhilarating experience that will leave you craving for more.
Cooking Class: Learning to prepare local delicacies
Dive into the flavors of Indonesian cuisine by participating in a cooking class. Learn the secrets of traditional dishes, as local chefs guide you through the preparation of aromatic spices and fresh ingredients. As I mastered the art of creating a mouthwatering Indonesian feast, I discovered a new appreciation for the country's rich culinary heritage. The best part? It only costs a few thousands IDR to join!
Fishing: Embarking on a fishing adventure in the surrounding waters
Embark on a fishing excursion and try your luck at catching the day's fresh bounty. Join local fishermen as they guide you to the best spots and share their fishing techniques. As I cast my line into the shimmering waters, I felt a sense of anticipation and connection with the island's maritime traditions.
Yoga: Relaxing and rejuvenating with yoga sessions by the beach
Find inner peace and rejuvenate your body and mind with yoga classes offered on the Gili Islands for only IDR 100,000 per session. Whether you're a seasoned practitioner or a beginner, the serene surroundings provide the perfect backdrop for deepening your practice and cultivating mindfulness. As I flowed through each pose, I felt a sense of harmony and alignment with the island's natural beauty, all while staying within my budget thanks to the affordable IDR pricing.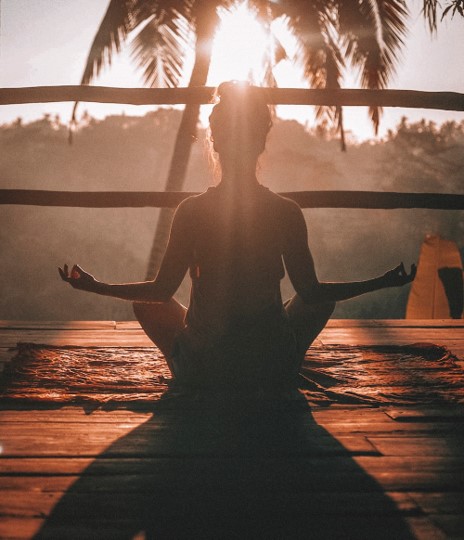 Beach Clean Up: Contributing to the island's sustainability efforts
Contribute to the preservation of the Gili Islands' pristine environment by participating in a beach clean-up initiative. Join like-minded individuals in picking up litter and raising awareness about the importance of sustainable tourism. As I collected debris from the shore, I felt a deep sense of responsibility for protecting the fragile ecosystem that makes these islands so special.
Overwater Swings: Swinging above the turquoise waters for an unforgettable experience
Live out your childhood dreams by swinging on overwater swings that dot the coastline of the Gili Islands. Capture Instagram-worthy moments as you soar above the crystal-clear waters, feeling a sense of pure joy and freedom.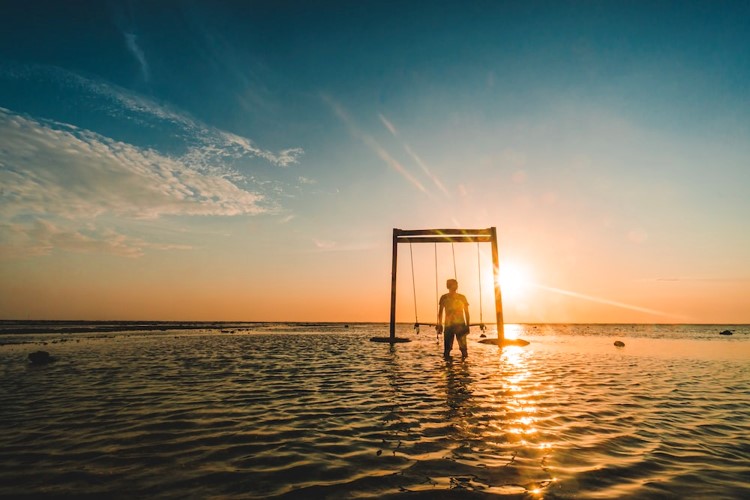 Sunset Cocktails: Sipping refreshing drinks while enjoying the breathtaking sunset views
Treat yourself to a delightful cocktail as you toast to another day in paradise. Sit back, relax, and savor the flavors while enjoying the stunning sunset views. The combination of the island's tropical ambiance and the tantalizing mix of ingredients created a sensory experience unlike any other.
Biking Around the Island: Exploring the islands' charming landscapes on two wheels
Rent a bicycle and embark on a leisurely ride around the islands, exploring hidden corners and scenic pathways. Feel the warm breeze on your face as you pedal along sandy trails, encountering friendly locals and picturesque landscapes. It's a wonderful way to immerse yourself in the laid-back island lifestyle.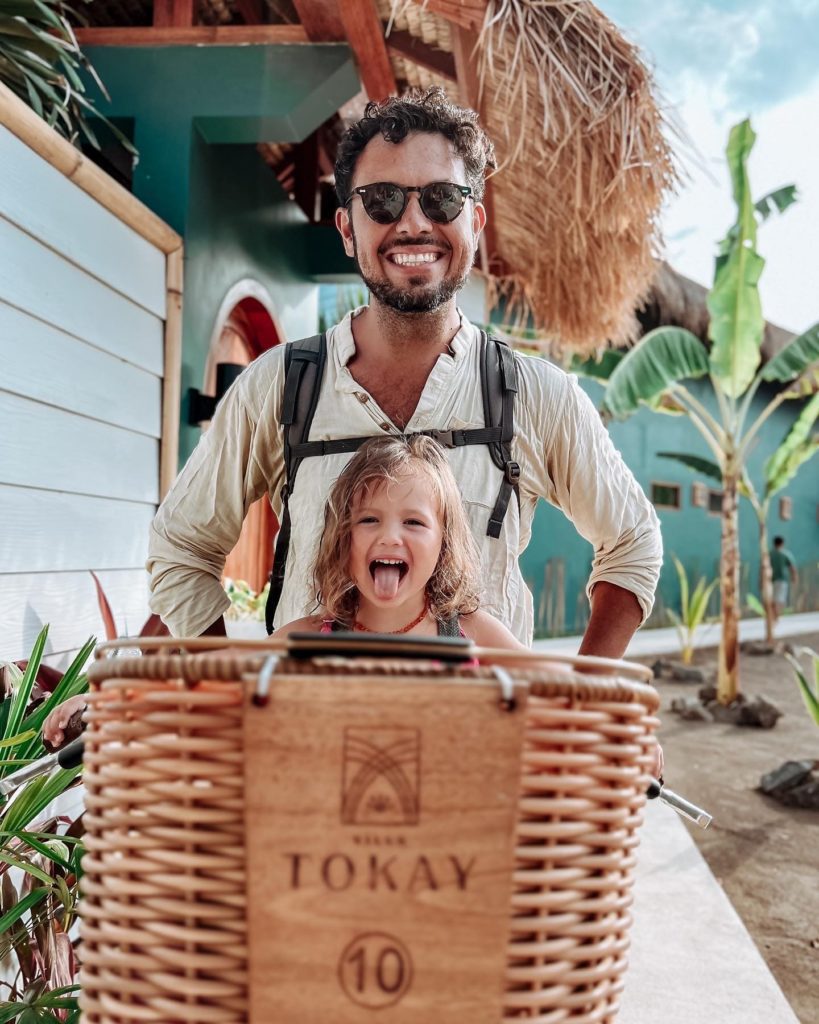 Watching Movies at the Beach: Relishing in open-air cinema experiences on the sand
Experience the magic of outdoor cinema as you snuggle up on the beach of Gili Air or Gili Trawangan and watch a movie under the starry night sky. With the sound of crashing waves in the background, it's an enchanting setting that adds a touch of romance and nostalgia to your island getaway. All this for just the cost of adrink
Spa (Massage): Indulging in a pampering massage by the sea
Indulge in ultimate relaxation on Gili Island with a rejuvenating spa session. Treat yourself to a soothing massage, letting the skilled hands of experienced therapists melt away your worries and tensions. As I surrendered to the blissful serenity, I felt a renewed sense of vitality and tranquility. Some villas and accommodations offer in-house massages for as low as IDR prices.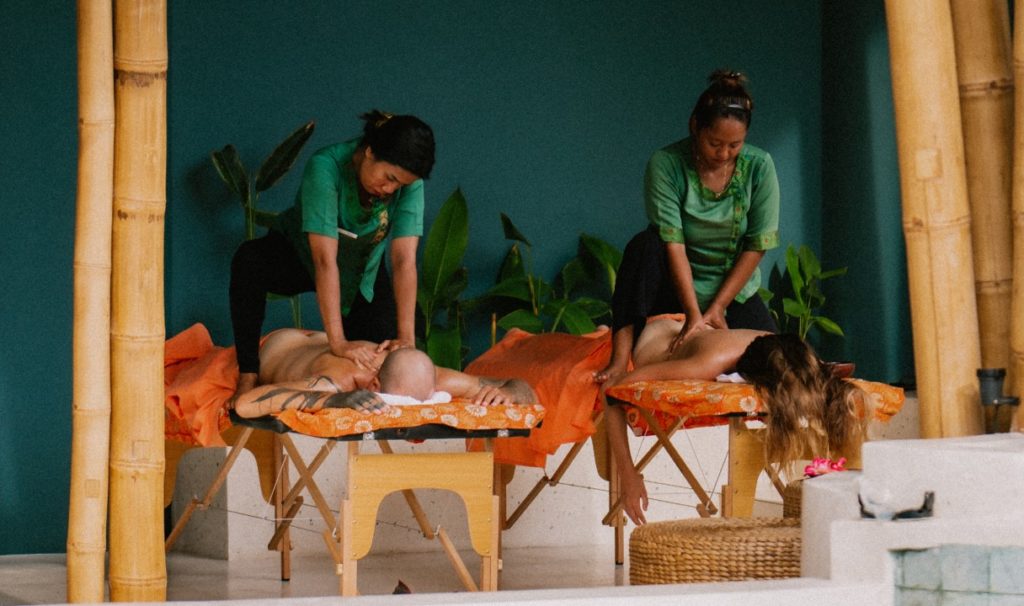 Accommodations
If you're planning a trip to the Gili Islands, one of the most important things to consider is where you'll be staying. Fortunately, there are plenty of options available for all budgets and preferences.
Types of accommodations available, from hotels to villas
The Gili Islands offer a wide range of accommodations, from budget-friendly hostels to luxurious villas. If you're looking for something more traditional, there are also several homestays available where you can experience local life up close and personal.
If you're traveling with a group or family to Gili Island, consider renting a private villa. Many villas come equipped with their own swimming pool and outdoor space, making them the perfect option for those who want privacy and comfort on the island.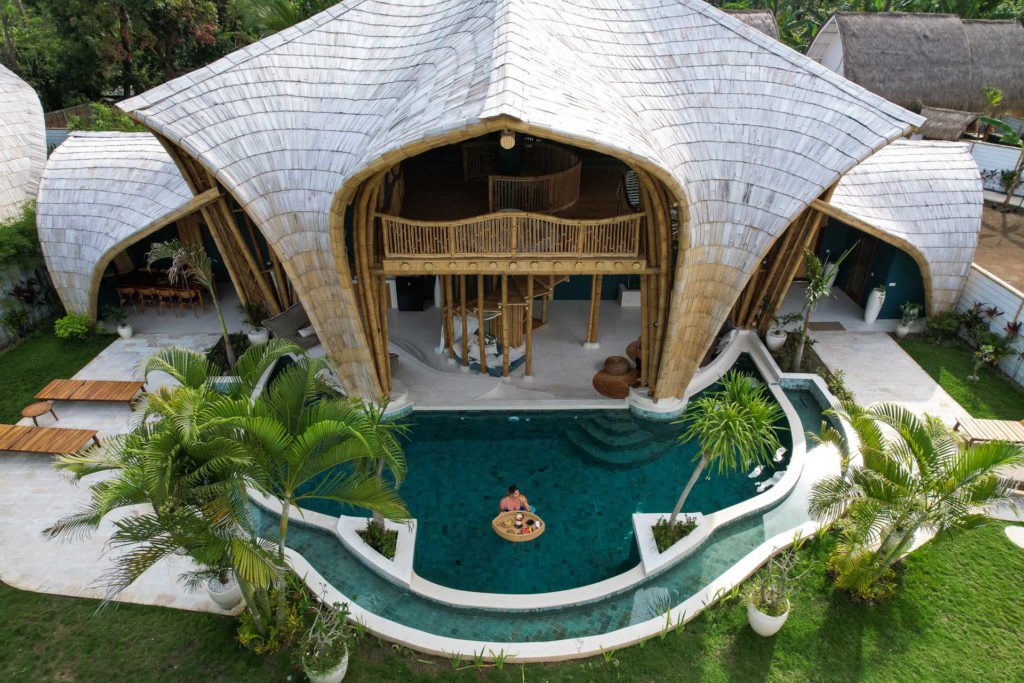 If you're looking for something more social and budget-friendly, hostels are a great option. Most hostels on the islands have air-conditioned dorms as well as private rooms, making them ideal for backpackers or solo travelers looking to meet others.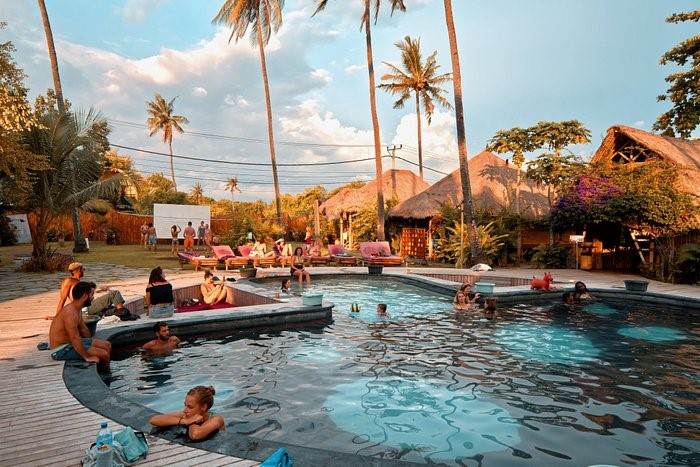 Price range for different types of accommodations
The price range for accommodations on the Gili Islands varies greatly depending on what type of place you choose and what time of year it is. In general, prices tend to be higher during peak season (July-August and December-January) but can still be quite reasonable outside those months. If you're on a tight budget, hostels are by far the cheapest option with dorm beds starting around $10-20 USD per night.
If privacy is important to you but don't want to break the bank, guesthouses start around $15 USD per night while homestays run about $20-30 USD per night. Villas tend to be much more expensive with prices ranging anywhere from $100-500+ USD per night depending on location and amenities.
However, if you're traveling with a group or family, the cost can be split making it a more affordable option. No matter what your budget is, there are plenty of accommodations available on the Gili Islands to suit your needs.
Food and Drink
Local Cuisine Options: Savoring the flavors of the islands
The Gili Islands offer a variety of food options, from local Indonesian cuisine to international dishes. However, if you want to taste the true flavors of the islands, try some traditional dishes. One of the most popular is Nasi Goreng, which is fried rice mixed with eggs, vegetables, and meat or seafood.
Another must-try dish on Gili Island is Gado-gado, a salad made with boiled vegetables and topped with peanut sauce. If you're feeling adventurous, try Sate Lilit, a type of satay made from minced fish or meat mixed with spices and then grilled on lemongrass sticks.
Or perhaps sample Bebek Betutu, a duck dish that's slow-cooked in banana leaves and spices until it falls off the bone. If you're visiting Gili Island, don't miss out on trying Es Teler – a sweet concoction made with coconut milk, jackfruit slices, avocado chunks and shaved ice – it's perfect for cooling down on a hot day.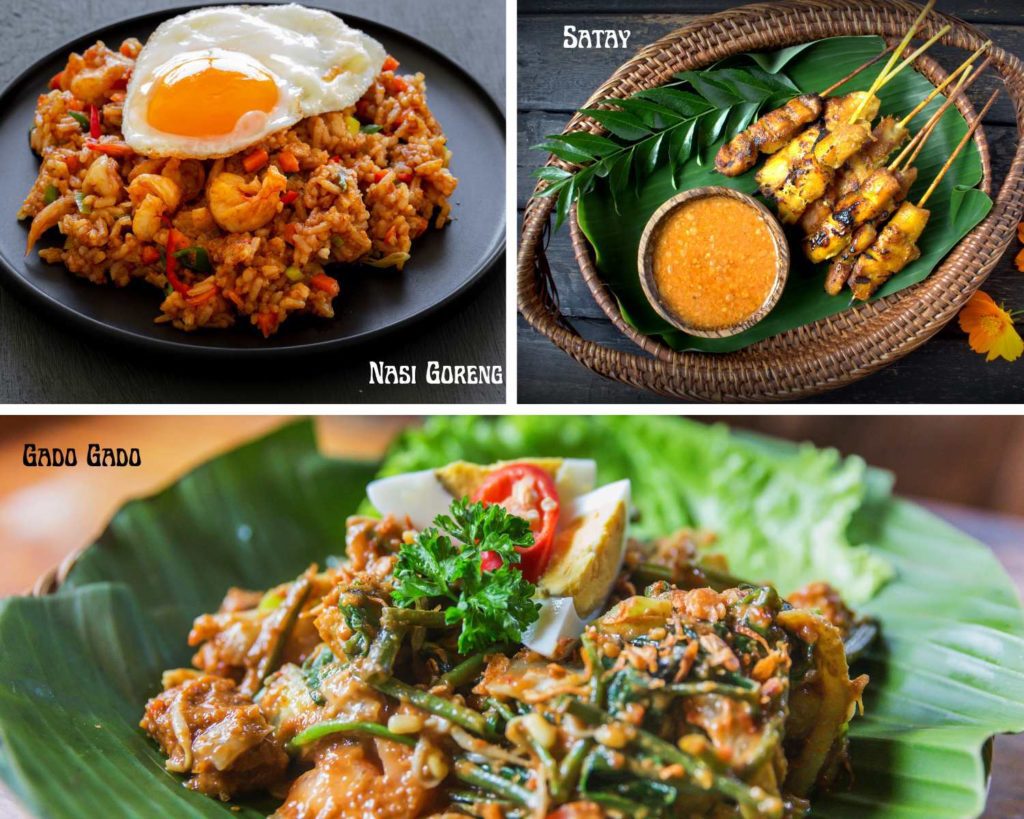 Popular Restaurants and Bars on the Islands: Delighting in culinary delights and vibrant nightlife experiences
The Gili Islands' dining scene has seen rapid growth in recent years. You'll find plenty of restaurants serving up fresh seafood caught straight from the sea surrounding the islands along with local Indonesian fare. One highly recommended spot for seafood is Scallywags Organic Seafood Grill located in Gili Trawangan .
Offering an array of freshly caught seafood cooked to perfection over charcoal grills (all sourced locally), this restaurant prides itself on using organic ingredients whenever possible. If you're looking for something other than seafood on Gili Island there are several international cuisine restaurants including Mexican (Casa Vintage Beach), Italian (Ristorante Casa Italia) & French (Le Pirate).
After dinner head over to Sama Sama Reggae Bar in Gili Air , where live music fills the air every night and the drinks flow freely. Or if you're in the mood for a more laid-back vibe, head to Pituq Cafe in Gili Meno which has a great selection of cocktails and live acoustic music on certain nights.
Click here for a selection of bards and restaurants on Gili Air.
Conclusion
Whether you're looking to explore local Indonesian dishes or try international cuisine, there are plenty of dining options on the Gili Islands. From casual beachfront cafes to fine dining restaurants, there's something for everyone here. Don't forget to try some of the local specialties while you're here – they are sure to tantalize your taste buds!
Transportation
Getting to the Gili Islands: Your Travel Guide
The Gili Islands, while secluded, are surprisingly accessible. Whether you're coming from Bali, Lombok, or further afield, there are several routes and transportation options to choose from.
From Bali to the Gili Islands: Boat/Ferry options, Fast boat options, Flight connections
Bali, being the main international gateway to Indonesia, is often the starting point for many travelers heading to Gili Air. Here are the steps to reach the Gili Islands from Bali:
Step 1 – Bali to Padang Bai: First, you'll need to get to Padang Bai, a small port town in eastern Bali. You can reach Padang Bai by taxi, private car, or shuttle bus from popular areas like Kuta, Seminyak, or Ubud.
Step 2 – Padang Bai to the Gili Islands: From Padang Bai, you can take a fast boat directly to the Gili Islands. The boat journey usually takes around 1.5 to 2 hours.
Private Boats are also available, they can pick you up whenever in Taxi in Bali and bring you to the Gili Islansds in less than 1.5 hours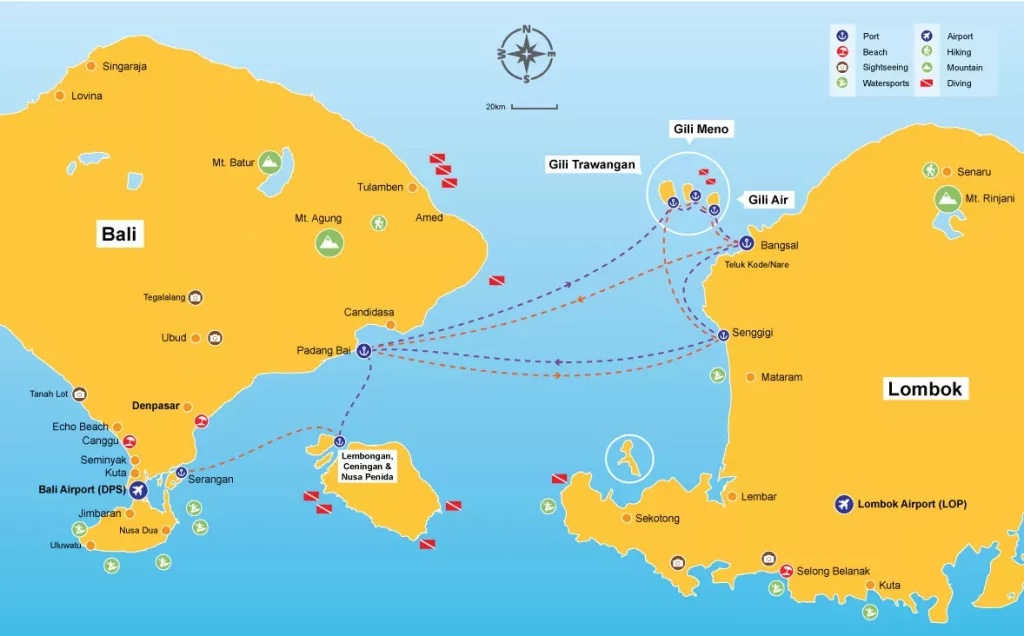 From Lombok to the Gili Islands: Boat/Ferry options
If you're already in Lombok, getting to the Gili Islands is even easier:
Step 1 – Lombok to Bangsal Harbor: From anywhere in Lombok, you can take a taxi or private car to Bangsal Harbor.
Step 2 – Bangsal Harbor to the Gili Islands: From Bangsal Harbor, you can take a public boat or a private speedboat to the Gili Islands. The boat ride is short and usually takes around 30 minutes.
Gili Islands Travel Tips
Book in Advance: Especially during peak season, boats can fill up quickly. It's a good idea to book your boat tickets in advance.
Check the Weather: Sea conditions can affect boat schedules. Always check the weather forecast before your journey.
Transportation options on the islands, including bicycles and horse-drawn carriages
Once you arrive on one of the three Gili Islands (Gili Trawangan, Gili Meno, and Gili Air), you'll need to find transportation to get around. Luckily there are only two transportation options: bicycles and horse-drawn carriages known as cidomos. Bicycles are by far the most popular option for getting around on all three islands.
Many hotels offer bike rentals, making it an affordable way to explore each island at your own pace. Cidomos are another option for those who prefer not to pedal themselves around or if they have heavy luggage with them.
These traditional horse-drawn carriages are found throughout all three Gilis and are a fun way to travel. Just make sure to bargain with the driver before getting in, as prices can vary.
One thing to note is that there are no motorized vehicles allowed on any of the Gili Islands, so don't expect to see any cars or scooters. This makes for a peaceful atmosphere and helps preserve the natural beauty of the islands.
Gili Islands Travel Tips
Culture and History
Brief history of the islands
The Gili Islands have a long and interesting history that dates back thousands of years. The first inhabitants of the islands were believed to be Austronesian peoples who migrated from Southeast Asia. However, the islands were later conquered by the Dutch and were used as a base for their spice trade in the 18th century.
During World War II, the Gili Islands served as a hiding place for Japanese submarines and was also used to transport supplies between Bali and Lombok. In recent years, the Gili Islands has become a popular tourist destination with visitors coming from all over the world to enjoy its beautiful beaches, turquoise waters, and relaxed atmosphere.
Local customs and traditions
The local people on the Gili Islands are predominantly Muslim, so visitors should dress modestly when visiting villages or mosques. It is also considered disrespectful to touch someone's head or point your feet at someone while sitting.
One common tradition on the Gili Islands is called "Nyongkolan," which is a traditional Sasak dance performed during important events like weddings or religious ceremonies. Another tradition would be "Peresean" which is a stick fighting game played by Sasak men using rattan sticks as weapons while wearing traditional clothing called Saput Poleng.
Additionally, visitors to Gili Trawangan can participate in what's known as an "Ogoh-Ogoh Parade," which takes place during Balinese New Year celebrations or `Nyepi`. The parade features spectacular papier-mâché figures that are paraded through town before being ceremoniously burned at sunset.
If you're looking for an authentic cultural experience on your trip to Bali, then visiting one of the many small villages dotted around Lombok Island can be an excellent way to delve into local customs and traditions. You'll find that the villagers are incredibly friendly and welcoming, and they'll be more than happy to share their way of life with you.
Sustainability Efforts
Environmental Initiatives on the Islands
As a popular tourist destination, the Gili Islands are highly susceptible to environmental degradation caused by human activities. Fortunately, the islands' local government and various organizations have implemented numerous initiatives to preserve the natural beauty of the islands.
One of these initiatives is banning plastic bags, straws, and bottles on all three islands. This is in line with Indonesia's national goal of reducing plastic waste in its oceans.
To help visitors adjust to this new policy, many accommodations offer reusable bottles that guests can refill at filtered water stations throughout the islands. Another significant initiative is promoting eco-friendly transportation options such as bicycles and horse-drawn carts (cidomo) instead of motorized vehicles.
These transportation alternatives not only reduce carbon emissions but also provide visitors with a more authentic island experience. The Gili Eco Trust is a local organization that focuses on promoting sustainable tourism practices on the islands.
The organization's primary objective is educating tourists about how their actions impact the environment and encouraging them to make environmentally responsible choices during their stay. Additionally, they conduct regular beach cleanups and coral reef restoration activities.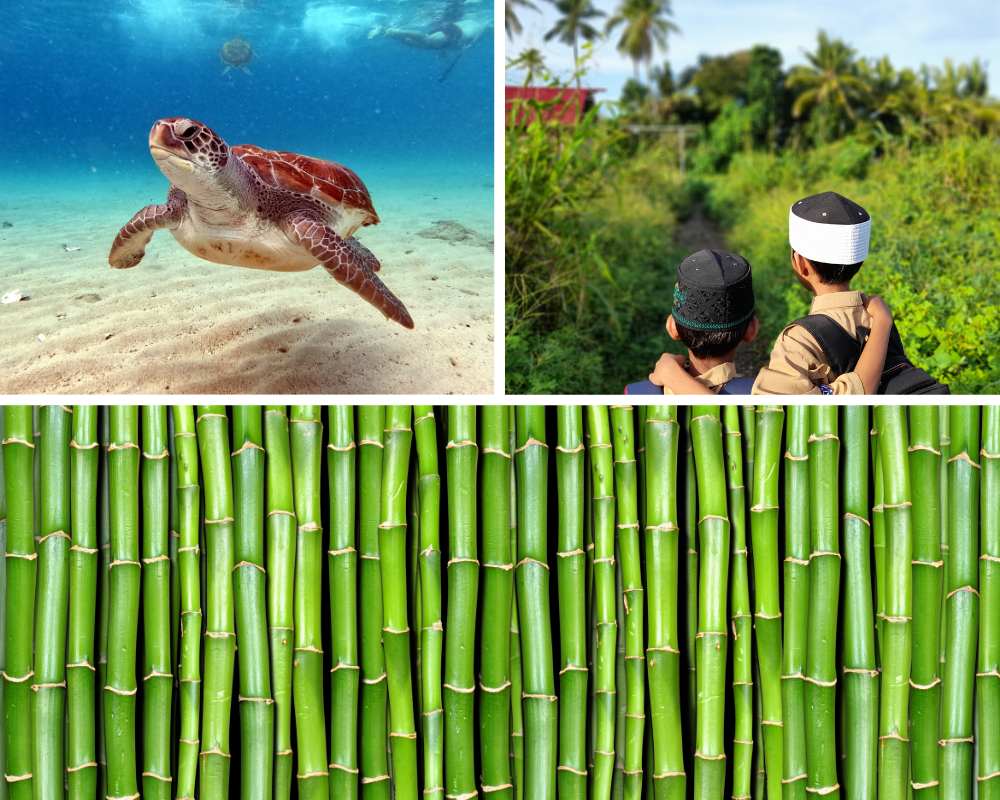 How Tourists Can Help Preserve The Natural Beauty of The Gili Islands
As tourism continues to grow on the Gili Islands, it's crucial for visitors to be mindful of their impact on these fragile ecosystems. One way tourists can help preserve this natural paradise is by supporting eco-friendly accommodations that have environmentally responsible policies in place.
These policies may include reducing plastic usage or conserving energy through solar panels or other green technologies. Visitors can also participate in organized beach cleanups or coral reef restoration projects organized by local organizations such as Gili Eco Trust or Reef Seen Divers Resort located on Gili Air.
These activities are not only a great way to give back to the island communities, but they also provide a unique opportunity to learn more about the local marine and terrestrial ecosystems. Tourists should be mindful of their own actions while on the islands.
Simple acts such as not littering or disturbing wildlife can help preserve these precious habitats for future generations to enjoy. By being responsible visitors and supporting sustainable tourism practices, we can all play a role in preserving this natural paradise for years to come.
Conclusion
It's been a pleasure exploring the Gili Islands with you. From its pristine beaches to its vibrant nightlife, it's no wonder why tourists from all over the world flock to this hidden gem in Indonesia. The Gili Islands are truly a must-visit destination for anyone who loves tropical paradises.
Recap of Why the Gili Islands are a Must-Visit Destination
The Gili Islands offer visitors an escape from the hustle and bustle of everyday life. With its crystal-clear waters, white sand beaches, and stunning landscapes, these islands create an idyllic setting for relaxation and adventure. If you're a nature lover, you'll be delighted to know that the Gili Islands have some of the best snorkeling and diving spots in Indonesia.
You can spot various species of marine life such as sea turtles, colorful fish, and even reef sharks. For those who prefer water sports activities such as paddleboarding, kayaking or even surfing; there is no shortage of options here.
The islands also have many local markets and small shops where tourists can purchase souvenirs like handmade jewelry or locally made textiles. In addition, there are plenty of restaurants serving traditional Indonesian cuisine as well as international dishes so that visitors can indulge in a variety of culinary experiences during their stay.
Last but not least, one aspect that makes the Gili Islands stand out is its sustainability efforts. The local community has taken initiatives to preserve their natural resources such as coral reefs by implementing ecotourism practices. Here, tourists have the opportunity to participate in beach cleanups or contribute towards protecting turtle populations by visiting dedicated sanctuaries.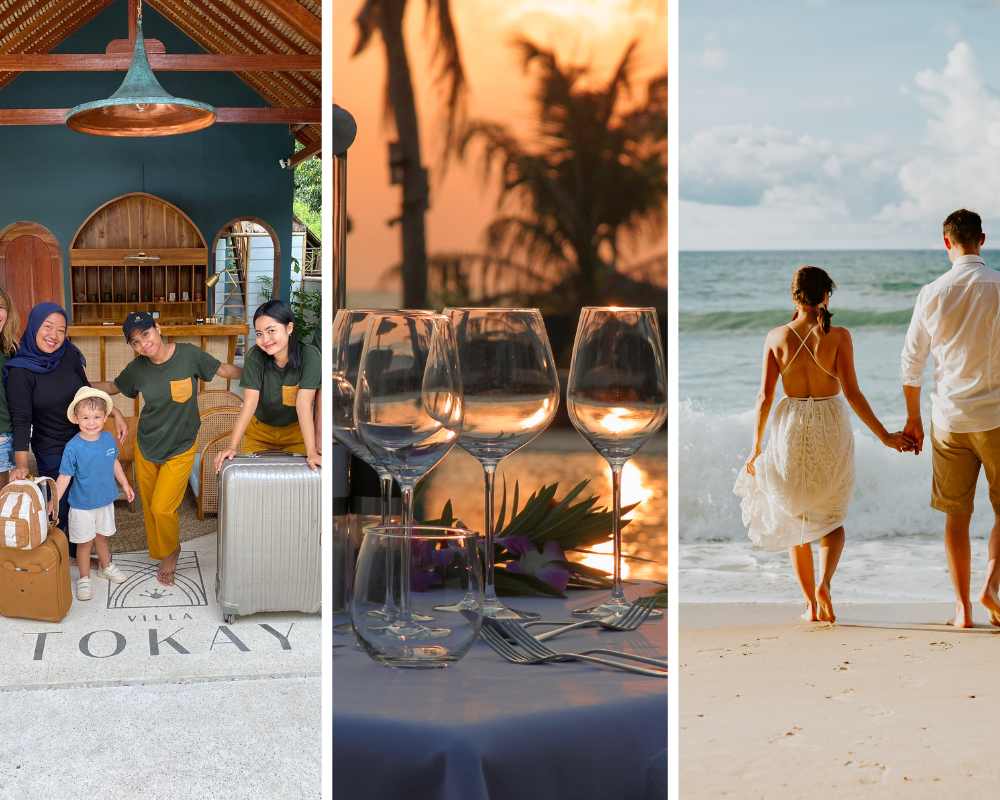 Final Thoughts: Inspiring travelers to embark on an unforgettable journey to the Gili Islands
The serene beauty of Gili islands makes it hard to leave and go back to our daily routine. Visiting these islands is truly a therapeutic experience for the soul. So, book your tickets and pack your bags because a tropical paradise awaits you in the Gili Islands.
Gili Islands Travel Guide – Frequently Asked Questions (FAQs)
1. What are the Gili Islands?
The Gili Islands are a group of three small islands: Gili Trawangan, Gili Meno, and Gili Air, located just off the northwest coast of Lombok, Indonesia. Known for their sandy beaches fringed with palm trees, these islands are a popular destination for snorkeling, diving, and free-diving.
2. How can I get to the Gili Islands?
You can reach the Gili Islands from Bali or Lombok. Fast boats operate from Bali to the Gilis daily. Alternatively, if you are in Lombok, you can take a local boat or a speedboat.
3. When is the best time to visit the Gili Islands?
The best time to visit the Gili Islands is during the dry season, from March to November. However, the islands are beautiful all year round, and the climate is dryer than in Bali during the rainy season.
4. What activities can I do on the Gili Islands?
There are many activities you can enjoy on the Gili Islands, including snorkeling, diving, surfing, yoga, cycling, horse riding, and even cooking classes. You can also enjoy the vibrant nightlife on Gili Trawangan or Gili Air.
5. Are the Gili Islands safe for tourists?
Yes, the Gili Islands are generally safe for tourists. However, like any travel destination, it's important to take precautions. Be aware of your surroundings, protect your valuables, and respect local customs and regulations.
6. Are there any health facilities on the islands?
Each of the islands has a small clinic for minor health issues. For more serious concerns, patients are usually transported to Lombok or Bali where larger medical facilities are available.
7. What kind of accommodations are available on the Gili Islands?
The Gili Islands offer a wide range of accommodations to suit various budgets, from budget hostels to luxury villas.
8. Can I use credit cards on the Gili Islands?
While most restaurants and hotels accept credit cards, cash is still king on the Gili Islands. It's advisable to bring enough cash for your stay. There are a few ATMs on the islands, but they can run out of money.
9. Is there Wi-Fi on the Gili Islands?
Yes, most hotels, restaurants, and cafes on the Gili Islands offer free Wi-Fi. However, the connection might not be as fast or reliable as you might be used to.
10. Can I rent a bike or scooter on the Gili Islands?
Bicycles are available for rent, and they are the most popular form of transport on the islands. Motorized transport is not common on the Gili Islands, with the islands favoring a more eco-friendly approach.
11. What kind of food can I expect on the Gili Islands?
The Gili Islands offer a variety of cuisines from local Indonesian dishes to Western food. Seafood is particularly fresh and widely available. Local dishes worth trying include Nasi Goreng (Indonesian fried rice) and Sate Ayam (chicken satay).
12. What is the local currency of the Gili Islands and what is the current exchange rate?
The local currency in the Gili Islands, as in the rest of Indonesia, is the Indonesian Rupiah (IDR). The exchange rate can fluctuate, so it's best to check a reliable financial news source or your bank just before your trip.
14. What languages are commonly spoken in the Gili Islands?
The official language in the Gili Islands is Indonesian, but due to the tourism industry, English is widely spoken and understood.
17. What's the marine life like around the Gili Islands?
The Gili Islands are known for their diverse marine life. Snorkeling and diving can give you sightings of turtles, a wide variety of tropical fish, and beautiful coral reefs. Remember not to touch or interfere with the wildlife.
18. What are the options for getting around on each of the Gili Islands?
The most common way to get around the Gili Islands is by foot, bicycle, or horse-drawn carriage known as a cidomo. There are no motorized vehicles allowed on the islands.
19. Is tap water safe to drink in the Gili Islands, or should I stick to bottled water?
Tap water in the Gili Islands is not generally safe to drink. Bottled water is widely available and recommended for drinking and brushing your teeth.
20. Are there any environmental or conservation guidelines tourists should follow?
Yes, it's crucial to respect the local environment. Avoid touching or stepping on coral when snorkeling or diving, don't litter, and consider using reef-safe sunscreen. The Gili Islands have several conservation programs in place, and some offer tourists opportunities to get involved, such as the Gili Eco Trust.