I. Introduction
Welcome to the Gili Islands, an Indonesian wonderland that captivates with its unique charm, pristine beaches, and vibrant marine life. Nestled in the heart of the Coral Triangle between Bali and Lombok, these three tiny islands – Gili Trawangan, Gili Meno, and Gili Air – are a tropical paradise unlike any other.
Imagine waking up to the sounds of the sea, the air filled with the scent of the ocean, and the sun casting a golden hue over the landscape. Here, on the powdery white sands, you'll find yourself immersed in a world of tranquility, where time seemingly stands still, and the worries of everyday life melt away. This is the magic of the Gili Islands, a place where nature's serenity meets the luxury of bespoke travel experiences.
The true beauty of the Gili Islands lies not just in its picturesque landscapes, but also in the rich tapestry of experiences it offers. Whether you're a nature lover drawn to its diverse underwater world, a couple seeking a romantic getaway, or a family looking for a fun-filled adventure, the Gili Islands cater to every type of traveler.
At the heart of this enchanting archipelago, on the serene island of Gili Air, you'll discover Villa Tokay. This luxury private villa resort seamlessly blends the comfort of modern amenities with the captivating allure of island life. It's a place where honeymooners can find their own slice of paradise, where families can create unforgettable memories, and where the concept of 'island time' takes on a whole new meaning.
The Gili Islands offer an escape from the hustle and bustle of mainstream tourist destinations. It's a place where you can trade traffic for bicycles and horse carts, skyscrapers for palm trees, and stress for relaxation. But what is it that truly sets these islands apart? What makes the Gili Islands, and particularly Gili Air with its luxury villas such as Villa Tokay, so special? Let's delve deeper into the unique charm of this Indonesian wonderland.
II. Overview of the Gili Islands
Strategically located between the tourist hotspots of Bali and Lombok, the Gili Islands are a cluster of three small, idyllic islands – Gili Trawangan, Gili Meno, and Gili Air. Each island has its unique charm, but they all share the common traits of exquisite natural beauty, welcoming local culture, and an invigorating sense of tranquility.
The Gili Islands are easily accessible via speedboats from both Bali and Lombok, making them a favorite getaway for travelers in search of pristine beaches and crystal-clear waters. The journey itself is a spectacle, as the blue sea stretches out to the horizon and the islands gradually appear in view, like emeralds floating in a sea of sapphire.
While the Gili Islands are renowned for their stunning beaches and vibrant marine life, their history is equally intriguing. The islands have been inhabited for hundreds of years, initially by Bugis fishermen from Sulawesi. They were later used as a prison camp during World War II by the Japanese. Today, the islands are inhabited by a blend of Sasak, Balinese, and Sulawesi people, creating a unique cultural mix that is reflected in everything from the cuisine to the architecture.
Gili Air, the closest island to Lombok, is often described as the perfect mix of the party scene of Gili Trawangan and the secluded tranquility of Gili Meno. It's here that Villa Tokay has made its mark, offering a luxury villa experience that combines the natural beauty of the island with top-tier amenities and personalized service. Gili Air strikes a balance between modern comfort and island simplicity, making it a top choice for discerning travelers who want to experience the best of both worlds.
In the upcoming sections, we'll uncover more about what makes the Gili Islands a truly special destination. From its natural splendors and peaceful lifestyle to the unique experiences offered by luxury accommodations like Villa Tokay, you'll soon discover why this corner of Indonesia is a paradise like no other.
III. Unique Aspects of the Gili Islands
Natural Beauty and Biodiversity
One of the defining characteristics that sets the Gili Islands apart is the incredible natural beauty and rich biodiversity. With stunning white sandy beaches encircling each island, and turquoise waters brimming with an array of marine life, they present a vision of tropical paradise. Being a part of the Coral Triangle, the most diverse marine region in the world, the islands offer phenomenal diving and snorkeling experiences. From observing the graceful movements of sea turtles to being enchanted by the myriad of vibrant tropical fish species, the underwater world here is sure to captivate nature lovers.
Above water, the islands are home to a wide range of bird species, adding to the diverse soundtrack of the islands. The lush, tropical vegetation provides a verdant backdrop that contrasts beautifully with the azure sea and sky.
Tranquil and Serene Environment
If tranquility is what you seek, the Gili Islands are the perfect destination. A distinctive aspect of these islands is the absence of motorized transport. Here, bicycles and cidomos, the traditional horse-drawn carts, are the preferred modes of transportation, contributing to a serene, laid-back atmosphere that's hard to find elsewhere.
Gili Air, in particular, stands out with its delicate balance of convenience and seclusion. Here, you can enjoy the soothing sounds of nature in a tranquil setting, away from the bustle of larger islands.
The Gili Island Lifestyle
The lifestyle on the Gili Islands is a charming blend of traditional Indonesian culture and relaxed island living. Local markets brimming with fresh seafood and produce are a common sight, while beachfront restaurants offer a fusion of local and international flavors. An active local art scene brings added vibrancy to the islands, with artisans crafting beautiful pieces that reflect their rich cultural heritage.
On Gili Air, this charming island lifestyle is elevated by the presence of private accommodations, offering a touch of luxury and exclusivity. Here, guests can immerse themselves in the local lifestyle, while also enjoying personalized experiences, such as private beachfront dinners or yoga sessions with the sea as their backdrop. This seamless blend of local charm and luxury living is what makes Gili Air, and indeed all of the Gili Islands, truly special.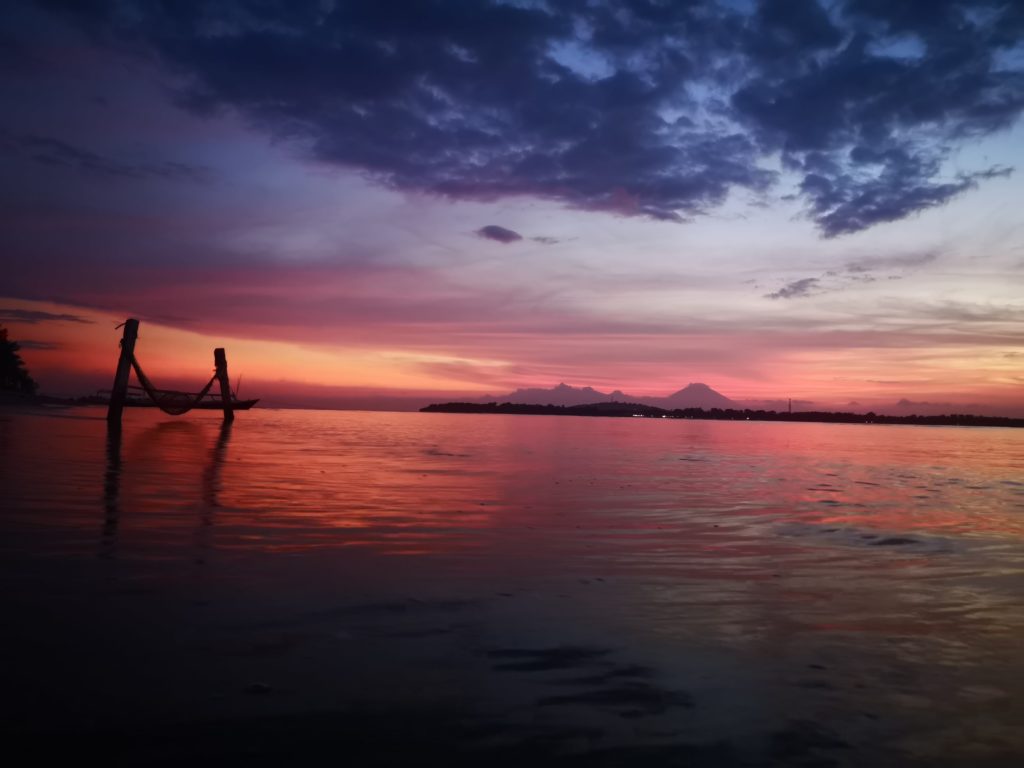 IV. Luxury Vacationing in the Gili Islands
For travelers seeking more than just a standard holiday, the Gili Islands offer an unparalleled luxury vacationing experience. This isn't simply about high-end accommodations or fine dining – though there's plenty of both. It's about the seamless blend of luxury with the island's natural beauty, culture, and tranquility, creating an experience that's both indulgent and authentic.
At the forefront of this experience are private villas that offer a home away from home. These accommodations provide guests with their own private space, modern amenities, and personalized services, all designed to ensure an enjoyable and stress-free stay.
Luxury vacationing on the Gili Islands also means immersing oneself in the tranquility and beauty of the surroundings. It's about having a private beachfront dinner as the sun sets, enjoying a rejuvenating massage to the sound of the waves, or simply lounging by your private pool with a good book.
For couples, especially honeymooners, this level of luxury and privacy creates the perfect setting for romance. Imagine taking a private boat trip around the islands, snorkeling in secluded spots, or dining under the stars – it's the ideal backdrop for creating beautiful memories.
For families, the Gili Islands offer a safe and enjoyable environment. Private villines cater to the needs of families with spacious accommodations, child-friendly menus, and a range of activities that both adults and children can enjoy.
The luxury vacationing experience in the Gili Islands is about more than just comfort and indulgence – it's about creating unforgettable experiences and memories in an enchanting tropical paradise.
V. Activities and Experiences in Gili Islands
For Honeymooners and Couples
The Gili Islands are a romantic's dream come true. For couples and honeymooners, there's an array of activities and experiences designed to create lasting memories. Start your day with a sunrise walk along the beach, where the only footprints in the sand are your own. Embark on a private boat tour around the islands, discovering secluded spots perfect for a swim or a picnic.
The clear waters surrounding the islands offer fantastic snorkeling opportunities. Swim alongside colorful fish, explore vibrant coral reefs, and marvel at the graceful sea turtles that frequent these waters. For the more adventurous, diving trips can be arranged, offering an even closer look at the underwater world.
As the day comes to a close, enjoy a romantic dinner at a beachfront restaurant. The fusion of local and international cuisines is sure to tantalize your taste buds, and dining by candlelight with the sound of waves in the background makes for an unforgettable experience.
For Families
The Gili Islands are also a fantastic destination for families. The beaches are safe and clean, perfect for children to play and build sandcastles while parents relax. Snorkeling is a fun and educational activity for the whole family, with equipment available for all ages.
Horse riding along the beach is another popular activity, offering a unique way to explore the islands. Or, take a bike ride around the island – Gili Air, for instance, can be easily navigated by bicycle in just a few hours.
For a more relaxed day, many accommodations offer cooking classes. This is a wonderful way for the whole family to engage with the local culture and learn to cook traditional Indonesian dishes.
Whatever your family enjoys, the Gili Islands offer an array of activities that cater to all ages and interests, making it an ideal destination for a family getaway.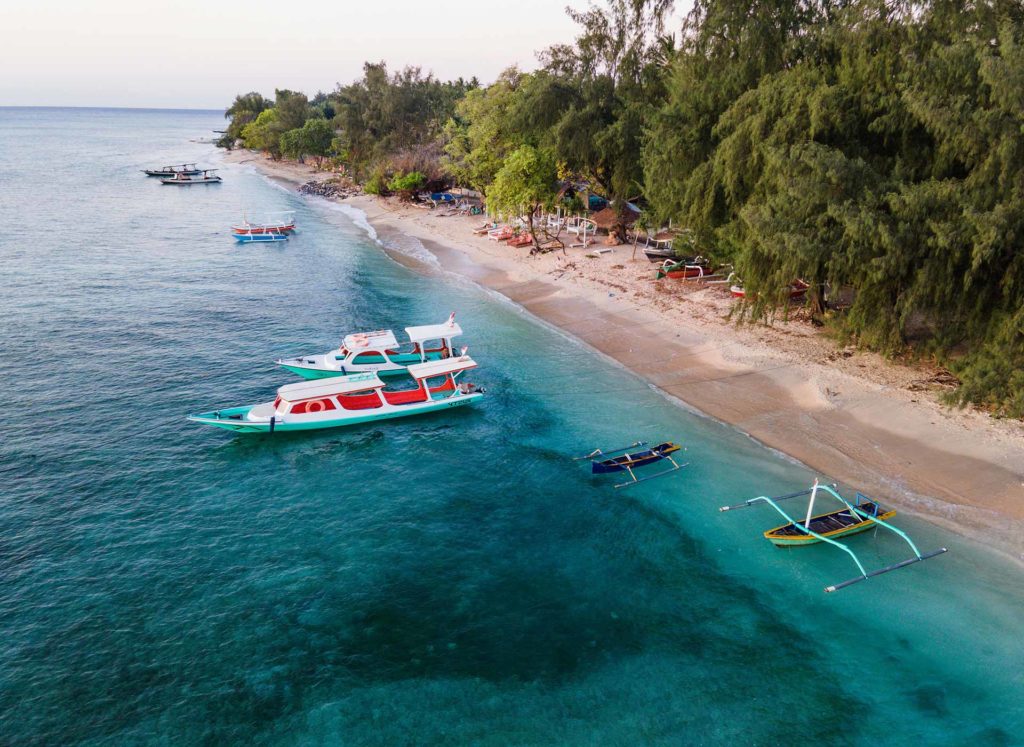 VI. Conclusion
The Gili Islands, a trio of tiny paradises off the coast of Lombok, Indonesia, are a unique blend of stunning natural beauty, rich cultural heritage, and tranquil island lifestyle. Their pristine beaches, azure waters, and lush vegetation create a picture-perfect setting for a tropical getaway. But it's the experiences these islands offer – from fascinating underwater adventures to serene beachfront dinners – that truly make them special.
For couples and honeymooners, the Gili Islands offer an idyllic setting for romance. Private boat tours, secluded snorkeling spots, and beachfront dining under the stars create an ambiance of intimacy and romance that's hard to find elsewhere.
Families, too, will find the Gili Islands to be a haven of fun and relaxation. With safe beaches, family-friendly activities, and a welcoming local community, it's the perfect destination for a family holiday.
Luxury vacationing on the Gili Islands is a unique experience. It's not just about high-end accommodations or fine dining – it's about the blend of luxury with the island's natural beauty, culture, and tranquility.
Whether you're seeking a romantic escape, a fun-filled family vacation, or simply a serene spot to unwind and reconnect with nature, the Gili Islands offer an experience that you'll treasure long after your tan has faded. The islands await you, ready to share their magic and make your tropical dream vacation come true.
Frequently Asked Questions (FAQs):
How do I get to the Gili Islands?
The Gili Islands are accessible by speedboat or ferry from both Bali and Lombok. The boat ride can take anywhere from 1 to 2 hours, depending on the point of departure and the weather conditions. Alternatively, for a seamless travel experience, Villa Tokay can arrange private transportation for guests from anywhere in Bali. Just get in touch with us, and we'll take care of all the logistics, allowing you to start your vacation stress-free.
What is the best time to visit the Gili Islands?
The Gili Islands are a great year-round destination, but the dry season (May to October) generally offers the best weather. However, even during the rainy season (November to April), rain showers are usually short and followed by sunshine.
Are the Gili Islands suitable for families with children?
Absolutely! The Gili Islands are very family-friendly. The beaches are safe and clean, and there are plenty of activities suitable for children, such as snorkeling, bike riding, and horse riding.
What activities are available on the Gili Islands?
The Gili Islands offer a variety of activities including snorkeling, diving, surfing, yoga, cooking classes, cycling, horse riding, and more. Many visitors also enjoy simply relaxing on the beach or exploring the local markets and restaurants.
Do I need to bring cash to the Gili Islands?
While more places are starting to accept credit cards on the Gili Islands, it's a good idea to bring some cash for smaller establishments, local markets, and transportation. ATMs are available on the islands, but they can sometimes run out of cash or experience technical issues.
Are there medical facilities on the Gili Islands?
Yes, there are clinics on each of the Gili Islands that can handle minor health issues. For more serious conditions, it may be necessary to travel to Lombok or Bali. It's recommended to have travel insurance that covers medical evacuation.
Is it safe to swim and snorkel in the waters around the Gili Islands?
Yes, the waters around the Gili Islands are generally safe for swimming and snorkeling. However, it's always important to be aware of the conditions, as currents can be strong in certain areas. Always follow local advice and if you're not a confident swimmer, consider hiring a guide or joining a tour.